Blueprint for a Children's Budget
By Denise Charlton
An opportunity to lift an estimated 40,000 children out of poverty has been presented as a policy option for Government ahead of Budget 2024.
The latest research by the Economic and Social Research Institute (ESRI) in partnership with Community Foundation Ireland published today (7th Sept 2023) is worrying on a number of fronts with each requiring careful consideration.
When both organisations came together four-years ago to start the Poverty, Income Inequality and Living Standards series of reports a lot of progress was being made with grounds for optimism.
The gap between people who are comfortable and those who struggle to make ends meet had been narrowing for many years, a trend that seemed set to continue.
Fast forward to today's publication and the fragility of that position is laid bare and the optimism is a long distant memory. The cost-of-living crisis, the impact of the return of war to Europe as well as the long shadow of Covid have seen progress stall and the gap once again widen.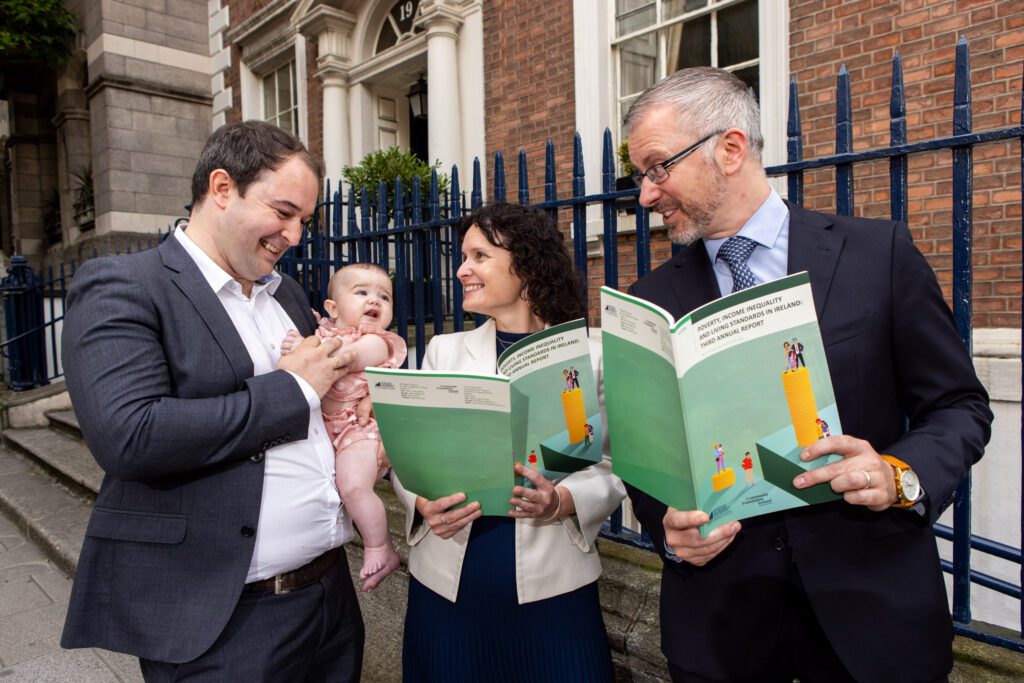 The Inequality Gap
The impact is significant with a sharp rise in the rate of material deprivation from 13.3 to 16.6 per cent in 2022.
The rates are particularly high among lone parents, those renting from an approved housing body, local authority or receiving HAP, and those in households where no one of working-age was in paid work.
Each of these categories and the hard figures in the research are lives and families who today are being left behind not just in terms of a reversal of fortune but also the social impact which goes hand in hand of being at risk of poverty. The tough choices of meals on the table or heat in the home are a daily worry for many.
Children often feel the effect most. This has been recognised by Government with the establishment of a special Child Poverty and Wellbeing Programme Office within the Department of An Taoiseach.
Having a designated office may signal where a government's priority lies, but the right policies are required to achieve real impact.
The researchers at the ESRI lay out policy options.
What is abundantly clear from their analysis is that the most effective and impactful way to bring about change is through measures targeting those family homes in the greatest need.
One option, which has been strongly favoured by campaigners such as the Children's Rights Alliance for over a decade, is the introduction of an extra targeted tier of child support.
While this approach may not as yet have found favour with policymakers here it is one which has been used successful in both Europe and the UK.
The ESRI finds that the introduction of a new targeted Child Income Support Payment (CISP) has the potential to reduce child poverty here by a quarter.
With an estimated 170,000 currently below the poverty line, that's equivalent to taking more than 40,000 children out of poverty.
These results could be delivered at half the cost of other possible measures, including a blanket increase in existing Child Benefit.
The Future
 What is now beyond dispute is the increasing impact poverty is having on our children. The alarming figures of the number of young lives where deprivation and poverty are a daily reality set out in this report reflect those in the now annual Child Poverty Monitor published by the Children's Rights Alliance earlier this summer.
When we produced the first report in the Poverty Income Inequality and Living Standards series in 2021 it warned that as adults we were in serious danger of being the first generation in modern Ireland to hand over a poorer society to our children.
These latest figures show how that stark prediction is becoming reality. As a long-time equality campaigner, as an adult and most importantly as a parent I find that unacceptable.
If we are to reverse this trend then future research will also be important so that we can identify those policies which are effective, and those which are not.
Community Foundation Ireland came to this partnership to fill a gap in knowledge around the reality of poverty in our communities.
As a philanthropic hub on an equality mission we recognise the value of gathering top class research as well as the evidence and experiences of 5,000 voluntary, community and charitable groups working on the ground.
Today we present that research in the hope it will make policymakers act so that once again we are a country moving in the right direction and are back to progressing towards equality for all.
Denise Charlton is Chief Executive of Community Foundation Ireland which since 2000 has supported communities with more than €120M in grants.